Exploring Gong Creativity through Mathematics and Beyond
as taught by Grand Gong Master Don Conreaux
July 8th -14th 2022 in Heidal, Norway
We're truly delighted to welcome you to our very first Gong Master Training Camp in the Majestic Mountains of Norway; a Beautiful Gong Gathering for both new learners and experienced players.
We are welcoming Grand Gong Master Don Conreaux who is co-teaching with his daughter Gong Master Journeywoman Yaelle Shaphir. This workshop is the first of its kind. Not only is it the first time that Don and Yaelle are teaching in Europe following the 2 year lockdown, but it is the introduction of the European Tour 2022 where we will have the opportunity to learn and play accordingly to the irrational fractions from Dons newest teachings.
Who is this course for?
Advanced students of the gong, sound healing practitioners and teachers of other modalities will gain knowledge and experience to develop their own practice, personal and professional aspirations, and spiritual growth.
For new Gongplayers, this training in playing by numbers is a fantastic opportunity to begin their gong journey by diving deep into the art and science of the Gong. Together with Don you will take your first steps into developing your own sound healing practice and building a worldwide Gong family Community.
EARLY BIRD BONUS
INTRODUTION TO THE NEW TEACHINGS IN GONGPLAYING
THE WHAT and WHY of PI and PHI
Defining Rational & Irrational Numbers: Intro to pi, phi, e
Don says about the teachings
"In childhood, we might remember experiencing the beginner's process of drawing or coloring by the numbers. Now in our adulthood, we can again use this beginner's mind approach of gong playing but in a more advanced state of playing by the numbers."
"We are also upgrading our prefrontal cerebral cortex in this "9.0" fashion. We upgrade our primate/limbic brain for "quantum experiencing" in this process of gong shifting our focus and consciousness."
"There is a particular way of thinking that we might un-humbly call "The Universal Gong Master State of Mind." We can begin this process by simply exploring The Cosmic Mysteries that are present in the 9/0. Enneagram and then newly see it as a great gong template for contemplation, an Enneaphone."
"The Omega State of Advanced Playing" is discovered by the playing by the numbers using the Enneagram template to transform the Gong face into the Enneaphone. Using the numbers 1–9/0, is another step to a new next level."

The Gong Summer Camp Includes
🔸Morning MEM Gong Yoga of Holistic Resonance (Muscle, Emotion & Meridian) [1]
🔸Lectures on Advanced Gong Mastery defining rational & irrational numbers
🔸Gong playing techniques with different strokes in ref. to playing by numbers
🔸Practice how to incorporate the new teachings in daily Gongbaths[2]
🔸 Ceremonial all night long Gong Puja on full moon July 13th [3]
🔸Rotogong technology
🔸Sangat Sharing Modalities[4]
🔸Personal time to Practice on the Gongs
🔸A selection of the finest High Quality Gongs
🔸Revelation of the newest 60" Gongland Gong by Gong Master Builder Rolf Nitsch
🔸Organic Vegetarian & Vegan Wholefood meals
🔸 Full access to the Sauna and Hot tub
🔸Certificate of Participation

Co-teachers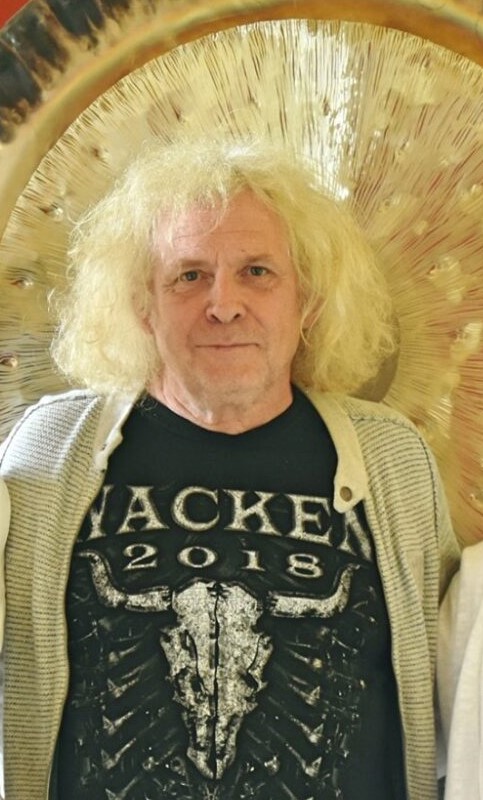 Joining us for 2 days Rolf will be presenting his magnificent Gongland Gongs, give lectures and answer questions on the art and craft of Gong Making.
Rolf is bringing Big Gongs to the Summer Gong Camp 😊 for example  a 60" Dusk Gong for us to listen to and play – in addition to that, a completely new Gongland Gong will be revealed – A true Gongland Surprise – the newest creation that not even Don have seen  yet.
Having made Gongs for Paiste for more than 20 years, Rolf is currently one of the most experienced Gong makers in Europe. Today he is CEO and Master Gong Maker with a unique production line.
It will be possible to order Gongs and receive discounts for participants of the Summer Camp. Please note that European trading and tax regulations One-Stop-Shop 2021 will be maintained.
Practical information
Feel welcome in Rognstad Mountain Retreat Centre, Heidalsvegen 2395 in Heidal. The farm is situated in a beautiful authentic valley with 3 National Parcs surrounding you: Jottunheimen, Rondane and Døvre.
Arrival from July 8th 18.00
There will be served a light evening soup. You may settle in and relax while enjoying an evening Gongbath in the beautiful newly renovated Gong Space, walking in the beautiful natural surroundings landscape or enjoying an evening swim in the river.
The training starts at 10.00 am July 9th and we'll say goodbye on July 14, after dinner
You are welcome to stay beyond the Gong Camp in our beautiful farmhouses or at our camping site. You can book extra nights for €40/night, incl. breakfast.
EARLY BIRD BONUS
INTRODUTION TO THE NEW TEACHINGS IN GONGPLAYING
THE WHAT and WHY of PI and PHI
Defining Rational & Irrational Numbers: Intro to pi, phi, e
The Early Bird fee for participation for all 6 days is €1.300 when booking before June 5th, 2022 – after this date the fee is €1.500
The price includes all meals and overnight accommodation in a shared 2-4 person bedroom.
Bring your own tent and get a €100 discount (free use of sanitary facilities)
Nonresidential participants will get a €100 discount (lunch & dinner are included in your training)
Additional Activities
Sunbathing and Swimming in the River
Mindful walking through the Mountain trails
Hiking and exploring the natural habitat of Rognstad
Discovering surrounding marketplaces and picturesque villages


EARLY BIRD BONUS
INTRODUTION TO THE NEW TEACHINGS IN GONGPLAYING
THE WHAT and WHY of PI and PHI
Defining Rational & Irrational Numbers: Intro to pi, phi, e
Nearest airport is Oslo Gardemoen. From the airport it is a wonderful 3 hour train journey to Vinstra. Look at the timetable and book your e-ticket at VY.no We offer a pick-up service from Vinstra train station for 20 euro's one way (40 minutes by car) on July 8th at 19:15 and 21:20 hrs. Let us know what date and time you plan to arrive. Check for possibilities on other arrival times.
Your spot is reserved after you transfer your training fee (incl discount or extra options) to the bank account of our Dutch Yoga company named Flow: NL04 INGB 0005334851
We look forward to Gonging with You, Don & Yaelle in Norway 2022
Loving kindness and greetings from Gong Master Journeywoman Tina Maria Stahl & Rinske Frederiks, owner of Rognstad Mountain Retreat Center
---
[1] MEM Gong Yoga focuses on 39 muscles, each one of them linked to one of the 12 main meridians according to Traditional Chinese Medicine Theory. Each organ or meridian is associated with an emotion. Utilizing breath, movement, awareness, and intention in the MEM Gong Yoga practice: we release stuck emotions, congested energy, and old patterns stored in our bodies, replacing the negative engrams with a positive command thus promoting optimum health, wellbeing, and inner peace. This relates to Patanjali's 4th limb called pratyahara or "substitution of a negative with a positive".
[2] Running evening Gong baths. You can sign up to either Play & Practice your new skills or you may want to lay down to Relax & Receive an evening Gongbath.
[3] Open for guests.
[4] Sangat Sharing. Co-teachers will share advanced modalities during the evening program.
[5] This material will be made available to Dons students to prepare themselves for the Summer Gong Camp Norway 2022 "THE WHAT and WHY of PI and PHI?"