YOGA & JULE-GONGBAD
✨Giv dig selv et velfortjent pusterum i den travle juletid
✨Forkæl dig selv med en fuldstændig afspænding for krop og sind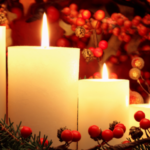 Lørdag d. 22. december 2018 kl. 11.00 – 13.00
PRIS: 250 KR.
Der er et begrænset antal pladser, du sikre dig din plads ved at indbetale 250 kr. på Mobilepay til 41273238
Skriv i beskedfeltet: Dit navn & dato "22/12"
✨ HVORDAN FOREGÅR DET?
Du kan forvente, at vi først laver nogle enkelte yoga- og åndedrætsøvelser for at åbne kroppen og dens energicentre. Dernæst lægger du dig godt tilrette med et tæppe over dig – du kan eventuelt også dække dine øjne med en lækker øjenpude. Gongerne spilles, lydene udvikler og udvider sig, og vasker ind over dig således at alle kroppens celler vibrerer. Bølgerne af lyd bærer din krop og sind til et sted af fred og harmoni.
Sindets naturlige reaktion på lyd er at finde logik i lyden. Gongen overgår sindets logiske kapacitet og får os til at slappe af. Vibrationerne påvirker hele kroppen på celleniveau og er som en slags lyd massage, som renser dig for stress og spændinger og bringer dig afslapning og harmoni.
✨ MERE INFORMATION OM GONG
Gongen siges at være lyden af universet. Når gongen spilles, skabes der en lyd med dybe vibrationer, som kan løsne fysiske, emotionelle og mentale spændinger – dette bringer dig i en dyb beroligende tilstand og er gaven til dig, som ønsker afstresning, skøn afslapning og dermed fornyet energi.
Lyden fra gongen rejser fra det ydre øre gennem kroppen via vagusnerven og påvirker hjernebølger, åndedræt og hjerterytme. Gongen resonerer med alle celler i kroppen og anspændthed, spændinger og stress smelter væk. Vibrationerne stimulerer neuroner i den frontale hjernebark og danner således en perfekt sti til dyb meditation. Der frigives endorfiner og kroppen regenererer.
"The gong is very simple. It is an inter-vibratory system. It is the sound of Creativity itself. The gong is nothing more, nothing less. One who plays the gong plays the Universe. The gong is not an ordinary thing to play. Out of it came all music, all sounds, and all words. The sound of the gong is the nucleus of the Word" – Yogi Bhajan.
✨PRAKTISK INFORMATION
HVOR: I Skovlyset – Natur Retreat og øko-Vegetarisk madklub.
I de skønneste omgivelser ved skov og strand – Pavillonvej 15, 4550 Asnæs.
Skovlyset er en charmerende historisk træpavillon 250 m fra stranden, et Spirituelt Well-being, Center for Ro, transformering og nydelse.
SKOVLYSET i ASNÆS, VESTSJÆLLAND
PRIS: 250 KR – Du sikre dig din plads ved at indbetale beløbet på Mobilepay til 41273238
Det er et eksklusivt arrangement, max 16 personer.
Først til mølle-princippet ved indbetaling på MobilePay.
FORPLEJNING:
Der serveres te og snacks som del af arrangementet.
MEDBRING:
Vi har enkelte yoga måtter og tæpper til rådighed – medbring gerne selv din egen yogamåtte, tæppe, pude, varme sokker og lignende.
Gerne en af hver – et lammeskind er i øvrigt helt optimalt – du skal ligge blødt og varmt!
Hvis du ikke har mulighed for selv at medbringe liggeunderlag, så kontakt os for at reservere yogamåtte til dig!
Skriv til os på info@gong-academy.com eller via FB opslaget YOGA OG JULE GONG