Silversmith Martin Bläse offers a selection of his sound objects in planetary tuning in the tradition of Hans Cousto. They are seven different kinds of sound objects which are all tuned to planetary tones. Of course they are all well suited to any cosmic sound work and also play along nicely with other instruments that are tuned to planetary tones. Nonetheless, each has its own unique specialty. Our beautiful planet Earth is bound in a cosmic dance of rhythms and cycles. There are the orbits of the planets around the sun, the moon's orbit around Earth, the Earth's spin on its axis and the motion of Earth's axis, the platonic year. When these frequencies are doubled and increased by an octave, so that they become audible, the result are so called planetary tones. With them, a completely new kind of music is possible, which is in consonance with the cosmic harmonies and therefore possesses a strongly harmonizing effect upon man and nature.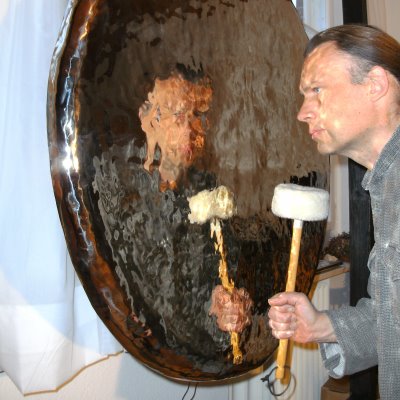 Mein Name ist Martin Bläse.
Ich bin Silberschmiedemeister und lebe mit meiner Frau Ille , ihrem Sohn Jonathan und unserer gemeinsamen Tochter Lena in Hansühn, Gemeinde Wangels in Ostholstein. Erstmals in meinem Leben ist meine Werkstatt nicht mehr direkt an meinem Wohnort sondern etwa zwei Kilometer entfernt auf Gut Testorf, ebenfalls Gemeinde Wangels. Ich arbeite in der dritten Generation hauptberuflich mit Metall. Mein Vater und mein Großvater waren selbständige Gürtlermeister. Aber auch mein Urgroßvater war ein Tüftler und Erfinder. Bereits als Jugendlicher habe ich viel in der väterlichen Werkstatt mitgearbeitet. Nach dem klassischen Berufsbild stellen Gürtler und Silberschmiede Gebrauchs- und Ziergegenstände aus Bunt- und Edelmetallen her. Was sich daraus in meiner Werkstatt entwickelt hat, erfahren Sie, wenn Sie meine Internetseite durchstöbern und noch mehr über meine Entwicklung und das Projekt
KULT·UR·SPRUNG
durch die Zeittafel im Anschluß auf diese Seite.