Alejandro Notz has studied harmonious singing, voice healing, meridian sound massage, Amazonian shamanic singing, Tibetan bowl techniques, flute playing of several South American cultures and Gong Sacred Sound Healing.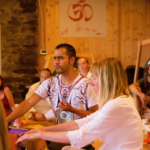 FROM 2015 to 2019 he has traveled with Grand Gong Master Don Conreaux, Gong muse Surana through Slovenia, Bosnia and Croatia with 30 Gong Players from all over the world for the Gong Caravan of Peace. The Gong Caravan of Peace is organizing free concerts throughout the Balkan region, offering Sacred Healing sound of the Gong to areas that has been devastated by the pain and horrors of war.
Alejandro has played with Grand Gong Master Don Conreaux and Gong Master Angelo Surinder at the Theater Alcazar in Madrid, the Temple of Meritxell in Andorra and has participated in more than 9 Gong Master Trainings. We are very fortunate to welcome him at this first ever Workshop of Overtone Singing and Gong Immersion in Copenhagen January 2019.
We will shortly announce our summer 2019 Gong program where Alejandro will return to Denmark playing with Gong Master Yogi Mehtab Benton and Gong Practitioner Tina Maria Stahl from Gong-academy.com
A journeyman is a skilled worker who has successfully completed an official apprenticeship qualification in a building trade or craft. Journeymen are considered competent and authorized to work in that field as a fully qualified employee. They earn their license by education, supervised experience and examination. Although journeymen have completed a trade certificate and are allowed to work as employees, they may not yet work as self-employed master craftsmen.
The term was originally used in the medieval trade guilds. Journeymen were paid each day. The word "journey" is derived from journée, meaning "day" in French. Each individual guild generally recognised three ranks of workers: apprentices, journeymen, and masters. A journeyman, as a qualified tradesman could become a master and run their own business, but most continued working as employees.
Guidelines were put in place to promote responsible tradesmen, who were held accountable for their own work and to protect the individual trade and the general public from unskilled workers. To become a master, a journeyman has to submit a master piece of work to a guild for evaluation. Only after evaluation can a journeyman be admitted to the guild as a master.Sometimes, a journeyman was required to accomplish a three-year working trip, which may be called the journeyman years.