April 2020 at the The Bosnian Pyramids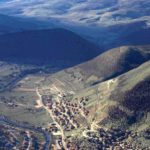 The Bosnian Pyramids are a potent place for healing, transformation and rejuvenation. People from around the world come every year to experience what are believed to be the largest man-made ancient pyramids on earth.
We could not imagine a more perfect place to bring together the sister sciences of Kundalini Yoga, Ayurveda and the ancient art of sound healing. During our 5-day women's wellness retreat, we will learn about the female hormonal system and ways to balance and recharge, as well as invite resilience, juiciness and vitality back into our life.
Tina Maria and Ulli will share their most cherished teachings and practices through Ayurvedic lectures and self-care tips, optimal nutrition for hormonal health, healing Kundalini yoga kriyas, gong baths, and guided meditations.
We will stay directly at the foothills of the Sun pyramid, at the beautiful, eco-friendly Pyramid Lodge, built and owned by the German bio-engineer Stefan Paul Grúschwitz, who has been guiding groups through the Pyramid tunnels for many years and serves on the advisory board of the pyramid foundation. We will be served organic vegetarian meals, as well as energized spring water from the Pyramid Lodge spring.
Activities include:
Daily morning Kundalini Yoga Kriyas

Guided meditations
Ayurvedic lectures
Visiting the pyramids and guided tour through the underground Ravne tunnels
Meditation in the Ravne tunnels
Hike to the top of the Sun pyramid
Gong baths
DATES:  Note that the retreat starts Monday, October 21st afternoon (check-in is at 14.30) and finishes Saturday, October 26th morning (check out is at 10:30). Please make your travel arrangements accordingly. The closest airport is Sarajevo, which is about 40 minutes from the lodge, and is worth a visit in itself if you have 1-2 days to spare.
COST:  1250 Euro (1000 Euro early-bird). This price includes 5-nights' accommodation, half-board (vegetarian breakfast buffet and dinner), as well as daily yoga, Ayurveda lectures, gong baths, and visit to the pyramids. The price does not include flight and airport transfer.
INFO: Please do not hesitate to get in touch with any questions and concerns. You can contact Ulli info@ulli-ayurveda.com or Tina Maria sat-nam@outlook.dk
REGISTRATION: To register, please contact Ulli or Tina Maria directly. Early-bird pricing is 1000 Euro for double occupancy, with 50%.
To book your space at any time, we ask for a 250 Euro non-refundable deposit.
About the Teachers
Ulli Allmendinger (MSc. Ayurveda) is an Ayurvedic consultant, herbalist and Yoga therapist with a passion for cooking, Ayurvedic nutrition and AyurYoga Therapy. She has pursued her studies of Ayurveda in the US and India since 2003. In addition to being a graduate of Dr. Lad's two-year, full-time program at the Ayurvedic Institute in New Mexico, she also holds a Master's degree in Ayurvedic Sciences from International Vedic Hindu University (IVHU) in Florida, USA. Even though she left behind a successful career as a journalist in New York City, Ulli still regularly contributes to publications such as Yoga Journal (Turkey) and has published her book Ayurveda with Doğan Publishing in June 2017. Ulli directs the Istanbul-based health consulting company Ulli Ayurveda (www.ulli-ayurveda.com), but also teaches workshops, trainings and detox camps throughout Europe. She recently began her studies of gong sound healing with Kay Karl in Berlin and Don Conreaux in Slovenia.
Tina Maria is a certified Kundalini Yoga Teacher with KRI, an Internationally recognized Yoga Alliance teacher training and has more than 30 years' experience. She trained directly with Yogi Bhajan, Master of Kundalini Yoga. She is a certified Gong Master & therapist with advanced trainings under Grand Masters Mehtab Benton and Don Conreaux. She works one-to-one with Western Medicine Acupuncture and Sat Nam Rasayan healing and is currently conduction advanced studies for Level 3.
Tina Maria is founder and CEO of www.gong-academy.com and is passionately conducting trainings and courses in how to play the gong, gongbath and -Pujas as well as organizing internationally retreats and trainings.