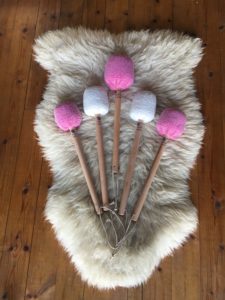 We are proud to present the Luna Mallets in Denmark. They will definitely make a difference to your gong playing.
The Luna Mallets comes in 3 varieties.
The ordinary mallets which are not "ordinary" at all as they make the sound of your gong way more deep and round than usual.
The Soft Mallets which do not activate the overtone as much as the ordinary mallet and are just PERFECT for the larger gongs.
The Tiny Mallets which are small hard mallets with a very thin wooden handle/grip . Perfect for playing with 2 mallets simultaneously and they are suitable for alle gong sizes.
These mallets are the favorite of Gong Master Don Conreaux.
And yes you can have them in different colors.
Prices listed here includes 25% Danish VAT (moms)


Ordinary Mallets
Small             20"-24"     €100,00
Medium       26"-30"     €106,25
Large            32"-34"     €112,50
X-Large       36"-38"     €125,00
XX-Large   40"-50"      €168,75
Soft Mallets
Small            24"-38"      €118,75
Large           32"-42"      €131,25
Tiny Mallets –  hard mallets for all sizes gongs ( 21″ – 125″)
Tiny             "One size"   €81,25
Prices updated June 2019
Please Sign up for our newsletter from Gong-Academy to be sure to get the latest news on Gongs, Mallets, Teachings and fantasic Events