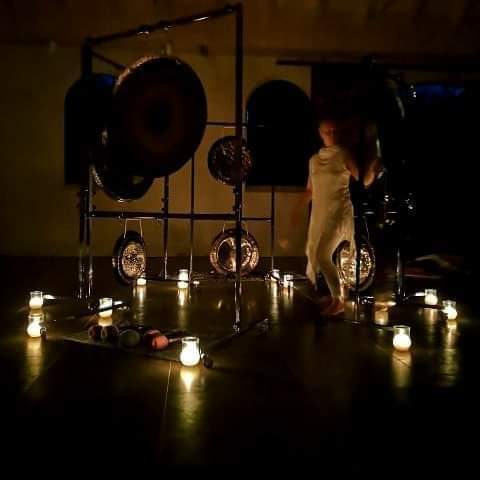 Gong Puja – all night gong event in CPH
Info in English see below ⭐⭐⭐⭐
FUldMÅNE GONG PUJA Fredag d. 2 oktober 2020 i KBH.
Det bliver et magisk event, de mægtige Gongs spilles blidt mens du mediterer og/eller sover under stjernerne✨ vi har en skøn sal med ovenlysvinduer i hele salens 13 meters længde.
Om Puja:
Gongerne spilles kontinuerligt i 7½ timer, i et blødt lydflow af gongspillere og gongmasters, som skiftes til at spille natten igennem. Lydvibrationerne fra gongerne er kendt for at løsne stagneret energi og dybe blokeringer i kroppens meridianer og energibaner, gamle programmeringer i kroppens celler frigøres og et nyt revitaliserende energi flow bringer en indre stilhed og dyb søvn, hvori healing sker. En søvn som ingen anden, hvor du er vågen som i en drøm.
⭐Der vil være vand og te til rådighed natten igennem
⭐Trykke omgivelser og gode toilet faciliter inkl. håndsprit
⭐Yogamåtter og meditationspuder er til rådighed
⭐Dyne, hovedpude og lagen medbringer du selv
⭐Tag behageligt løstsiddende tøj på, som du kan slappe af i.
Efter at du har redt din seng, hilst på de andre og gjort dig klar til natten, indleder vi Puja med en kort ceremoni. Ved hjælp af mantra, shrutibox og krystal skåle manifesterer vi et kærligt energifelt for os selv og fællesskabet og sætter bevidst vores intention for healing.
💫💍📿Vi arrangeret et lille Puja alter, hvor du kan lægge personlige effekter: KRYSTALLER & SMYKKER, som du gerne vil have renset & genopladet – BILLEDER af familie/venner som du ønsker at sende healing/held/lykke – PLANTER & LYS eller effekter fra dit hjem, som du ønsker tilført ny energi.
🌅Pujaen slutter med et opvågningsritual. Tidligt om morgenen stilner Gongerne af og du vågner genoplader efter en nat badet i healende vibrationer. Du får al den tid du har brug for til at vågne stille og roligt. Vi afslutter med te, vand og lidt frugt og der vil være mulighed for at dele dine oplevelser fra nattens Gong Puja i fælleskreds, hvis du ønsker det, inden turen går hjemad.
💲Pris: 650 kr./person
Reserver din plads nu. Overfør 200 kr. ved at indbetale beløbet på MobilePay 41273238 og skriv GONGPUJA i tekstfeltet. Restbeløbet indbetales 2 uger før begivenheden.
Ønsker du en faktura, så send din faktureringsadresse, mail og evt. cvr. nr. sammen med indbetalingen. Faktura kommer på mail.
Er du gravid eller har spørgsmål til hvorvidt du kan deltage, så tag kontakt og få en snak med os. Har du helbredsmæssige relaterede spørgsmål, så kontakt først egen læge.
Tidshorisont:
21.00: Ankomst og forberedelse af din soveplads
21.30: Tid til at hilse på de andre, tandbørstning og…. herefter lukkes dørene!
22.00: Åbnings Ceremoni
22.30 – 06.00: Gong Puja
06.00: Magisk stilhed og smukt opvågning ritual
06.30: te, vand og frugt og mulighed for at dele erfaringer
07.00: Oprydning
Tak for denne gang ♥
De kærligste hilsner fra Tina Maria, Stifter og dagligleder www.gong-academy.com
Reservationer refunderes ikke men kan overdrages til 3 person.
Vi er overholder de gældende regler vedr. Covid-19 bestemmelser.
Vi forbeholder vi os retten til at aflyse eventet og i så fald tilbagebetaler vi det fulde beløb.
⭐⭐⭐⭐⭐⭐⭐⭐⭐⭐⭐⭐⭐⭐⭐⭐⭐⭐⭐⭐⭐⭐⭐⭐⭐⭐⭐⭐⭐⭐⭐⭐⭐⭐

We welcome you to a magical Gong Puja the 26/6-2020 where the mighty Gongs will be playing during the night while you meditate or sleep.
This wonderful space is filled with windows in the celling so you can look directly at the stars✨✨✨
Gong Puja
We play the gongs continously for 7½ hours in a divine flow amongst gong players and masters, we share the Gong Temple and play in shifts of 45min at the time.
The sound and vibration of these extraordinary instruments help release stagnant energy and deep blocks in the body's meridians and energy fields. Old programmings in the body's cells loosen up and make space for a new revitalising flow of energy which guides you to inner peace, stillness and deep sleep where healing takes place. This incredible sleep might feel like being awake in a dream🌠🌠🌠
Event schedule:
21:00 Arrival and preparation of your bed
21:30 Meeting all of the participants, brush teeth etc and doors will close
22:00 Opening ceremony
22:30-6:00 Gong Puja
6:00 Prestine Stillness while waking up
6:30 An opportunity to share while being offered te, water and fruits.
7:00 Time to say Goodbye❤️
We begin the Puja with a small ceremony using Mantra, Shrutibox and crystal bowls to manifest a loving grid or energy field around us filled with intentions for the highest good of all.
There will be a small alter to leave anything personal or of special value to you, could be crystals, jewelry, pictures of loved ones you wish to get cleaned, recharged energetically or just sending love and healing💍❄️🔮👩‍👩‍👧‍👦
The Puja will come to an end early morning as the Gongs slowly quiet down and you peacefully start waking up rejuvenated, after a night immersed in healing vibrational sound. In your own time there will be an opportunity to share or not while having tea and fruits before we end this healing journey.
⭐⭐Yoga mats and bolsters available⭐⭐
⭐⭐Duvet cover, pillow, sheet you need to bring yourself, mattresses (we only have a few)⭐⭐
⭐⭐Wear comfortable loose sitting clothes⭐⭐
💙💙Price: 650dkk💙💙
Book your space with Mobilepay on +4541273238 to Tina Marianne Celosse Stahl and write Gong Puja, other payment methods or invoices contact us.
With Love ❤️
Christina Colding & Tina Maria Stahl www.gong-academy.com

Hourly Schedule
Friday
Tina schedule

Tidshorisont: 21.00: Ankomst og forberedelse af din soveplads 21.30: Tid til at hilse på de andre, tandbørstning og…. herefter lukkes dørene! 22.00: Åbnings Ceremoni 22.30 - 06.00: Gong Puja 06.00: Magisk stilhed og smukt opvågning ritual 06.30: te, vand og frugt og mulighed for at dele erfaringer 07.00: Oprydning