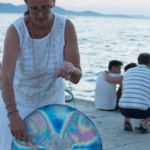 Tina Maria is a certified Kundalini Yoga Teacher with KRI, an Internationally recognized Yoga Alliance teacher training and has more than 30 years' experience. She trained directly with Yogi Bhajan, Master of Kundalini Yoga who introduced her to the Gong in the late 1980'ties.
She studied healing with Master of Sat Nam Rasayan healing Guru Dev Singh and holds a level 2 degree. She teachers weekly Warm Water Yoga in Copenhagen Denmark.
She is the founder and CEO of Gong-Academy.com and Kundalini Yoga Denmark and is passionately conducting trainings and courses in how to play the gong, gongbath and -Pujas as well as well as internationally retreats and trainings. She is a certified Gong Master & Ayurvedic gong therapist with advanced trainings under Grand Masters Mehtab Benton and Grand Master Don Conreaux.
In 2017 he traveled with Grand Gong Master Don Conreaux, Gong muse Surana through Slovenia, Bosnia and Croatia with 30 Gong Players from all over the world for the Gong Caravan of Peace. The Gong Caravan of Peace is organizing free concerts throughout the Balkan region, offering Sacred Healing sound of the Gong to areas that has been devastated by the pain and horrors of war.
2019 will be a marvelous year for Tina Maria, as she is organizing workshops, trainings and concerts with international Gong Grand Master Yogi Mehtab Benton, Gong Grand Master Don Conreaux, Gong Master Alejandro Notz, Gong Master Erla Osk Sigtrygg Dottir and Ayurvedic consultant and yoga teacher Ulli Allmendinger.