Alejandro Notz has studied harmonious singing, voice healing, meridian sound massage, Amazonian shamanic singing, Tibetan bowl techniques, flute playing of several South American cultures and Gong Sacred Sound Healing.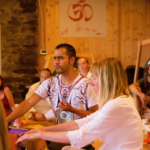 In 2015, 2016 and 2017 he traveled with Grand Gong Master Don Conreaux, Gong muse Surana through Slovenia, Bosnia and Croatia with 30 Gong Players from all over the world for the Gong Caravan of Peace. The Gong Caravan of Peace is organizing free concerts throughout the Balkan region, offering Sacred Healing sound of the Gong to areas that has been devastated by the pain and horrors of war.
Alejandro has played with Grand Gong Master Don Conreaux and Gong Master Angelo Surinder at the Theater Alcazar in Madrid, the Temple of Meritxell in Andorra and has participated in more than 9 Gong Master Trainings. We are very fortunate to welcome him at this first ever Workshop of Overtone Singing and Gong Immersion in Copenhagen January 2019.
We will shortly announce our summer 2019 Gong program where Alejandro will return to Denmark playing with Gong Master Yogi Mehtab Benton and Gong Practitioner Tina Maria Stahl from Gong-academy.com