Hello my name is Tina Maria and I am the founding director and daily leader of Gong Academy. I am passionately conducting trainings and courses in how to play the gong, gong bath and gong puja, as well as well as organizing international retreats and trainings. If you wish to know more about the instruments, the gong events & training programs. Write to mail: contact@gong-academy.com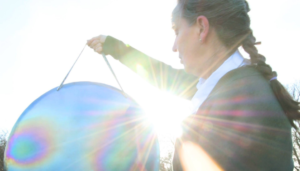 I met Yogi Bhajan Master of Kundalini Yoga at the summer Yoga camp in Loches, France in 1980. He introduced me to the Gong in the early 1990'ies and with nearly 30 years' experience I founded Gong-Academy and Kundalini Yoga Denmark.
When Gong Master Mehtab Benton began to travel and teach the way of the Gong in Scandinavia I immersed myself in the teachings and subsequently hosted the first Advanced Gong workshop in Denmark with Mehtab and his wife Laura.
In 2018 I traveled extensively with Grand Gong Master Don Conreaux and Gong muse Surana through Slovenia, Bosnia, and Croatia with 30 Gong Players from all over the world for the Gong Caravan of Peace. The Caravan of Peace was conducting free concerts throughout the Balkan region, offering Sacred Healing sound of the Gong to areas that has been devastated by the pain and horrors of war. Subsequently I partook in the first ever Gong Teacher Training (GTT) program with Gong Grandmaster Don Conreaux and Gongmuse Surana, being dedicated to be gonging and upholding a vision for world peace.

I would describe myself as a Gong Journeywoman; a skilled worker who is aiming to complete an official apprenticeship qualification in playing and sharing the magic of sound healing. Traditionally a journeywoman, as a qualified tradeswoman could become a master and run her own business. To become a master, traditionally one must submit a masterpiece of work to a guild for evaluation. This is exactly what I have been working on with my teacher Silversmith Martin Bläse during the past few years, learning the skills of forging and tuning instruments directly from Martin in his workplace in northern Germany.