The plate bell is powerful, pure and intense. It is especially suited for energetic cleansing of spaces and to play along with gongs.
The sound originates from tuning the plates to two frequencies an exact octave apart.
GONG-ACADEMY is an authorized dealer of GONGLAND GONGS & 7 COSMIC TREASURES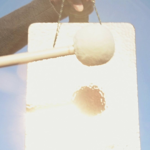 Manufactured from bronze, hammered, fired and polished.
Accessories include various hangers, a handle and appropriate mallets.
Listen to the sound of the plates on the link below
http://www.kult-ur-sprung.de/plattenglocken-videos.html
PLANET
FREQUENCY
WEIGHT
PRICE – PRIS
Keynote
Overtone
lbs
€ ex VAT
DKK ex. moms
Sun
252 Hz
505 Hz
7.08 lbs
€ 521
DKK 3.920
Earth Year
272 Hz
544 Hz
6.57 lbs
€ 482
DKK 3.625
Pluto
281 Hz
562 Hz
6.39 lbs
€ 476
DKK 3.580
Mercury
283 Hz
565 Hz
6.33 lbs
€ 474
DKK 3.565
Mars
289 Hz
579 Hz
6.2 lbs
€ 467
DKK 3.490
Saturn
296 Hz
591 Hz
6.04 lbs
€ 462
DKK 3.475
Platonic Year
344 Hz
688 Hz
5.2 lbs
€ 437
DKK 3.285
Jupiter
367 Hz
734 Hz
4.87 lbs
€ 415
DKK 3120
Synodic Day
388 Hz
777 Hz
4.61 lbs
€ 403
DKK
3.015.00
Sidereal Day
389 Hz
779 Hz
4,59 lbs
€ 403.00
DKK 3.030
Uranus
415 Hz
829 Hz
4.32 lbs
€ 392
DKK 2.950
Synodic Moon
421 Hz
842 Hz
4.25 lbs
€ 391
DKK 2.940
Neptune
423 Hz
846 Hz
4.24 lbs
€ 390
DKK 2.935
Venus
442 Hz
885 Hz
4.03 lbs
€ 382
DKK 2.875
Sidereal Moon
455 Hz
910 Hz
3.97 lbs
€ 377
DKK 2.535
All prices are based on currency rates of exchange in effect at the time of printing.
All prices are subject to change without prior notice due to currency fluctuation, fuel prices and/or unforeseen economic circumstances. Opdateret August 2019