27th January 2019, 16.30 – 18.00
Venue:  Dansekapellet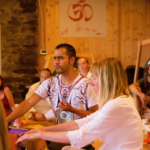 Overtones singing, also known as harmonic chant or throat singing, is an ancient technique that enables a singer to produce two or more sounds simultaneously with his voice, as well as white light through a prism.
From the physiological point of view, the vocal harmonics produce changes in the breathing, in the heartbeat, in the waves of the brain and in the consciousness.
Different areas of the brain are put to vibration through sounds and are activated in such a way, that they release chemical hormones and neurotransmitters that facilitate you to enter an altered state of consciousness. This altered state of consciousness allows you to be fully present in the moment.
For this introduction workshop there is no requirement for any previous musical or singing experience – everyone is welcome to join us to experience and learn this precious technique.
Prize for 90 minutes overtone singing workshop: 40 Euro – 300 kr. to MobilePay:41273238 When you register, please write "Overtone Singing"
If you wish to take part in the Gong Immersion as well, you will receive a 15 Euro discount for both events: Full evening special price 70 Euro – 525 kr.
When you register, please write "Full Evening Event"
This is the first time Alejandro will teach this technique in Denmark. We will welcome Alejandro back to Denmark in July 2019 at Møn Retreat Center, where he will take us deeper into the Overtone Singing techniques.
Please sign up for our NEWSLETTER to keep updated on the summer events contact@gong-academy.com